At one point I believed that only free Syslog server for Microsoft Windows was Kiwi Syslog Server. However, I found a very good alternative – MikroTik Syslog Daemon is a freeware Syslog Server for Windows platform.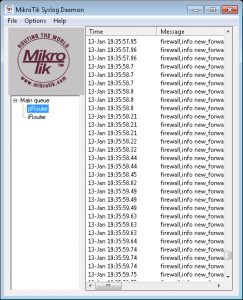 I am writing this post so others can find alternative Syslog recorder / server for Windows. Strangely, it cannot be found using Google search.
It runs on most Windows versions, including Windows 7 (32 and 64-bit) and Windows Server 2008 R2.
P.S. I found it because I work with Mikrotik RouterOS and I was surprised that Kiwi Syslog is not the only one Syslog software for MS Windows.
P.S.S. This time I could not find the Free version on Kiwi site, so here is a link to download.com.